No-Coat® ULTRAFLEX™ Drywall Corners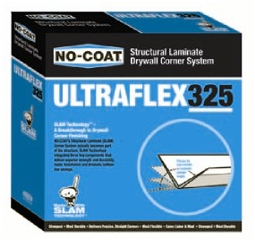 The No-Coat® Structural Laminate (SLAM™) design is a revolutionary drywall corner system that delivers superior strength and durability and eliminates costly callbacks. Whether finishing off angles, archways, inside or outside corners, No-Coat® offers a complete corner system that guarantees perfect results – every time.

No-Coat® ULTRAFLEX™ 325 has a smaller flange width and is designed for shorter runs – spans less than 10 feet. ULTRAFLEX™ 450 with its wider width is designed for longer runs – spans greater than 10 feet.


ULTRAFLEX 325 - 3.25" wide x 100' x 4 rolls – 311692
ULTRAFLEX 450 – 4.5" wide x 100' x 10 rolls – 311691
No-Coat® INSTALLATION INSTRUCTIONS

1. Apply a generous amount of approved joint compound to a clean, dry surface of drywall.
2. Place the No-Coat® corner onto wet joint compound and press on firmly.
3. Using a stiff 4 inch to 6 inch taping knife or an appropriate No-Coat® roller, wipe very hard, squishing the excess mud out from behind the No-Coat® corner trim and embedding the mud into both the paper fibers of the drywall board and the joint tape paper surface of the No-Coat® corner.
No-Coat® has a number of installation rollers available to help insure proper embedding, depending on the product used.
The process described above is the most important part of drywall corner trim installation and must be followed correctly for the warranty to apply.

TIPS

• ULTRAFLEX™ corners are first aid for damaged off-angle corners. Keep a roll on hand for fixing cracks, peels, chips and dents. No-Coat's thin corner profile allows you to repair damaged drywall corners without a buildup of product.

• When installing ULTRAFLEX™ corners, preflex the material and run a pencil down the apex of the corner for a clear reference point (similar to a chalk line).

• If you are installing ULTRAFLEX™ corners on a long span off-angle by yourself, you can use a tack pin to hold it in place before the mud sets. Then, remove the pins and adjust the corner as you wipe it down.