Roxul AFB® is a lightweight, semi-rigid batt insulation designed specifically for interior wall and floor applications. This stone fiber based* insulation is made from natural stone and recycled content. It's a green product that provides superior sound absorbency and fire protection for overall occupant comfort and safety. That's why AFB® is quickly becoming the insulation of choice for today's green builders in commercial and industrial construction.
Fire Resistant AFB® is non-combustible, resisting fire and delaying fire spread for added margins of safety.
Roxul AFB's combination of stone fiber and recycled content makes this insulation fire resistant. This non- combustible product does not develop smoke or promote flame spread when exposed to flame, making AFB® a critical line of defense in fire protection. In fact, studies have proven that stone or mineral fiber insulations provide a 54% increase in overall fire resistance rating compared to non-insulated assemblies.
Water & Moisture Resistant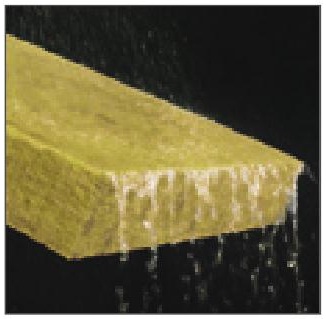 This stone fiber structure repels water and aids in draining, which protects interior walls and studs.Roxul AFB® will not absorb water or hold moisture. In fact, its stone fiber composition is ideal for repelling and draining water away from walls and studs, protecting them. AFB's fire resistance and sound control properties are never compromised by water or moisture. Ideally, AFB® will not corrode and it does not promote fungi or bacteria growth.
Semi-rigid, sag-free material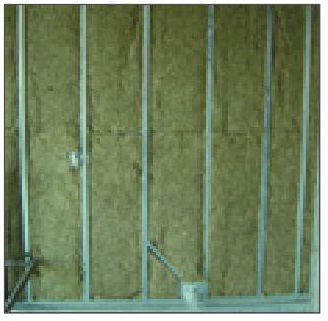 AFB's higher density keeps the product in place, which is critical for optimum fire protection and sound control.
Sag-free, Tight Fits
The higher density of AFB® provides superior sag resistance and fit. Once installed, AFB® holds its shape without sagging or slumping in the wall cavity over time to consistently provide continuous fire protection and sound control.
SOUND CONTROL
Room to room or floor to floor, when Roxul AFB® is specified for interior wall or floor assemblies, better overall sound control and fire protection are achieved. Compared to other types of insulation, the stone fiber content of AFB provides increased density that effectively reduces airflow and essentially, sound transmissions. Greater noise or sound control is further achieved when thicker AFB® and gypsum board are used together. AFB® thickness ranges from 1.5" (38 mm) to 3.5" (76 mm).
Testing demonstrates that Roxul AFB's inherently higher density and manufacturing process delivers dramatically better airflow resistivity compared to glass fiber. Higher air flow resistivity means better sound attenuation.
In commercial applications, much of the sound or noise to be controlled is produced in low frequency or bass ranges. This noise includes conversation, projection/ video equipment, and ventilation systems. In the lower 1/3 octave bands, tests have shown that Roxul AFB® outperformed fiberglass insulation, providing more low frequency absorption when comparing acoustical testing at low frequencies.
ECO-FRIENDLY FEATURES
AFB® is an innovative insulation offering a world of green features that help developers earn LEED® (Leadership in Energy and Environmental Design) points across six construction categories. AFB's greenest features include: Natural, inorganic material with recycled content
Non-combustible without dangerous chemicals
Excellent sound absorption for acoustical comfort
Higher R-values for consistent thermal performance
Chemically inert for minimizing indoor air quality pollutants
Resistance to growth of mold, fungi, and bacteria
CFC and HCFC free product and process
A Global Leader. A World of Difference
Roxul Inc. is part of Rockwool International, the world's largest producer of stone fiber insulation with 25 facilities in 15 countries. Our insulation products are proven performers, delivering a world of advantages such as fire and water resistance, and sound absorbency, along with several green features for today's environmentally conscious builders.
Roxul Inc. is North America's leading manufacturer of stone fiber insulation products for the North American market. From our head office in Milton, Ontario we operate two manufacturing facilities, one in Milton and the other in Grand Forks, British Columbia. Producing insulation for residential, commercial, and industrial applications, all of our stone fiber products are made from a combination of natural basalt rock and recycled slag, which makes them very eco-friendly and green.
Proudly, Roxul has been green from the very beginning. We demonstrate our environmental commitment through our products and in the way we produce them. For example, the water from our production process is collected and reused, which reduces our manufacturing water consumption by more than 50%. Plus, our advanced recycling facility directs our waste back into our manufacturing process with uncompromised product quality and efficiency. It is important to us to constantly strive in reducing our overall consumption of raw materials and conserving energy in producing our products. That's why when i's time to choose insulation; you can rest assured that choosing Roxul is a good decision now and for the future.
WARRANTY
As Roxul Inc. has no control over installation design and workmanship, accessory materials or application conditions, Roxul Inc. does not warrant the performance or results of any installation containing Roxul Inc. products. Roxul Inc.'s overall liability and the remedies available are limited by the general terms and conditions of sale.
The limited warranty in the terms and conditions is in lieu of all other warranties and conditions expressed or implied, including the warranties of merchantability and fitness for a particular purpose.