Drywall is one of the most Common Building Products
There is no doubt that drywall is required for almost any type of building project. Whether you are building a home, performing a renovation or making changes to your business. And, you need to make sure that you use high quality material that will stand the test of time. Low grade and cheap drywall could lead to more repairs and fixes in the short term. This is why is important to invest in high quality building supplies for all building projects.
When it comes to finding reliable and top-quality drywall in Vaughan, look no further than Costa Building Supplies Ltd. With years of experience in the industry, we are a trusted supplier of premium drywall products and services. Our commitment to excellence and customer satisfaction sets us apart from the competition.
Costa Building Suppliers – A Leader for Drywall in Vaughan
When looking at your options for drywall, it's important that you choose to partner with a company that specializes in drywall and can meet all of your building project needs. From high quality drywall, to drywall supplies, tools, and advice, there is no company better for drywall than Costa Building Supplies Limited. And, we have all the other building supplies that you will need to successfully complete your project. We are your one stop shop for building supplies!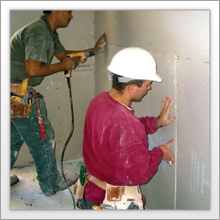 Wide Range of Drywall Products
At Costa Building Supplies Ltd., we understand that every project is unique. That's why we offer a wide range of drywall products to meet your specific needs. Whether you're working on a residential or commercial project, we have the right drywall solutions for you. Our extensive inventory includes different sizes, types, and thicknesses of drywall to suit various construction requirements.
We Welcome All Business
One of the main reasons we are the best in the industry is that we work with everyone that needs it. We happily supply drywall and related products to contractors, builders, homeowners, and anyone else that needs drywall for their project in Vaughan.
Costa Building Supplies offers its customers a full line of drywall and surrounding area. We stock more sizes than you will ever find at other store. We have a lot of drywall selection to meet all of your building needs. With so many options, there is no need to go anywhere else. Plus, if you have questions or need advice, we would be happy to help you out!
Competitive Pricing
At Costa Building Supplies Ltd., we believe that quality drywall shouldn't break the bank. We offer competitive pricing on all our products and services in Vaughan, ensuring that you get the best value for your money. Our transparent pricing policy means no hidden costs or surprises, giving you peace of mind throughout the process.
Exceptional Customer Service
Customer satisfaction is our top priority. We strive to provide exceptional customer service from the moment you contact us. Our knowledgeable and friendly staff are always ready to assist you with any inquiries or concerns you may have. We take pride in building long-lasting relationships with our customers, based on trust, reliability, and mutual respect.
Why Call us
There is a reason why we are the number one option for drywall in Vaughan – because we provide the best possible service, high quality building products, and pricing that will fit within your project budget. Our customers continue to choose us over other companies in the drywall industry because:
We have been in business since 1983
We are family owned and operated
We carry drywall from Canada and the United States only
Delivery services available
We work with residential, commercial, and industrial customers
Great service at great rates
We offer an extensive list of drywall products and supplies
We offer advice and have a leaning center forDIY'ers
Free quote
Give us a Call!
Give us a call anytime if you need building supplies. We would be happy to help you select the right material for your project and would gladly answer any questions you have. Don't hesitate to contact us today to get a free quote!
To Learn more visit costabuildingsupplies.com
Get a free quote by calling 905-669-9339